Rexing V1P MAX 4K dual dash cam | WiFi GPS | Night Vision | Supercapacitor | Mobile App to view and manage dash cam recordings instantly on your iOS and Android devices | and more
When choosing a personal dashcam for your needs, it is necessary you get one that is reliable. Dashcams, after all, are responsible for protecting you against all kinds of road-related trouble and more.
However, choosing the perfect dash cam for your needs is not an easy thing to do. There are a lot of things you need to consider before you consider getting one. Lucky for you, the Rexing V1P Max 4K UHD Dual Channel Dashcam is here for you. The Rexing V1P Max is not the best dashcam available in the market but it certainly has its charms. For individuals who enjoy a sleek but portable design, this might be the one you are looking for.
Sale
REXING V1P MAX 4K UHD Dual Channel Dash CAM, 3840X2160 Front+1080p Rear, WiFi GPS Car Dash Camera...
4K DUAL CHANNEL RECORDING: Best FRONT & REAR camera record REAL 4K Front + rear 1080p. Simultaneously record and display the...
Built- in GPS, Wifi and Mobile App – Use our mobile App to view and manage dash cam recordings instantly on your iOS and...
G-SENSOR, LOOP RECORDING: Video can be recorded in 1,2 or 3 minute intervals. When the storage limit is reached on the memory...
SUPERCAPACITOR & PARKING MONITOR: Power is delivered with the help of a supercapacitor, a premium alternative to a...
SIMPLE INSTALLATION – Simple & easy to mount on windshield which makes for an overall straightforward installation process....
Last update on 2023-12-02 / This is Amazon Affiliate link / Images from Amazon Product Advertising API
This dashcam may be small but it comes with features that would outperform a lot of dash cams out there. With the Rexing V1P Max, it is undeniable that you will surely be getting the best value for your money.
Interested in knowing more about the Rexing V1P Max UHD Dual Channel Dashcam? Well, if you are, let's find out together below what more this dashcam model has in store for us.
• Display: 2.4 inches, 4:3 TFT
• Image Sensor: OS08A10
• Processor: HI3559V200
• GPS Support: Yes; Built-in
• WIFI Support: Yes
• Front Camera Video Resolution: 3840 x 2160
• Rear Camera Video Resolution: 1920 x 1080
• Front Lens Angle: 170°
• Back Lens Angle: 170°
• Storage Capacity: MicroSD Card (UHS-1/Class 10 or higher; expandable up to 256 Gb)
• Real 4K + 1080P Dual-Channel Recording
• Superior Night Mode Vision
• Parking Surveillance Mode
• Gravity Sensor
• Loop Recording
• Built-in GPS Logger
• Built-in WiFi and Mobile App
Why choose the Rexing V1P Max Dual Channel Dashcam?
There are a lot of reasons as to why you should choose the Rexing V1P Dashcam for your personal needs. After all, it may not be the best but it works quite well compared to others of the same price. However, if you are still not convinced even after seeing this product's specifications, allow us to help you out further.
The Rexing V1P Max Dashcam is a good choice because it offers unique features for a reasonable price. Given the specifications that it comes with, you will surely not regret choosing such a device.
However, choosing the perfect dash cam for your needs is not an easy thing to do. It requires a lot of research and knowledge before you can decide on which is the best option for you. And this is even truer especially for those who are new to the whole dash cam business.
So why exactly should you choose the Rexing V1P Max Dual Dashcam? Well, allow us to tell you why. Without further ado, here are the different features that you will surely enjoy if you choose this Dashcam.
First and foremost, the main function of a dashcam is to record and protect you from all roadside activities. After all, there is no way of knowing what could be right around the next corner.
This is why having a dashcam installed within your vehicles is always recommended. You can protect yourself from all kinds of harm even better. And this is what makes the Rexing V1P Max Dashcam such a great option.
One of this unit's main selling points is the fact that it offers real 4K recording capabilities. 4K recordings are great because they allow you to capture everything clearly on video.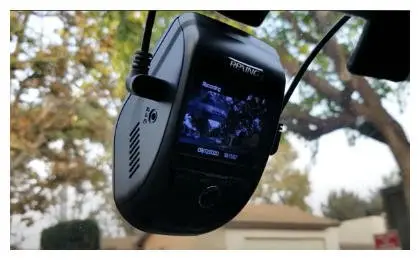 With this kind of resolution, you do not have to worry about blurry images and the like. You can rest easy knowing that your recording will surely capture the moment in the best video quality possible.
The only flaw with 4K videos is that they consume a lot of memory and space. So if you want to take advantage of the recording capability of the dashcam, you will need an SD card. However, worry not as this unit supports the use of an SD card of up to 256 GB worth of storage.
If you want to change the resolution to save on memory space, you may do so as well. However, for this, you will have to refer to your unit's user manual for clearer instructions.
Parking Surveillance Mode
Aside from the great video quality, the Rexing VIP Max Dashcam also offers a parking surveillance mode feature. This is great as even if you are not around, you are assured that your vehicle is still being monitored. With this feature, you are constantly informed of the condition of your vehicle even when you are not around.
Now, the Rexing V1P Max Dual Dashcam has two sub-functions when it is in Parking Surveillance Mode. And these are impact detection and motion detection.
Impact Detection functions with the help of your dashcam's G-Sensor. Basically, what happens is whenever there is an impact; it is automatically detected by your dashcam's G-sensor. When this happens, your dashcam will then power up and capture a recording of what is currently happening. This will help you identify later on who bumped into your car and how everything happened.
Motion Detection, on the other hand, is a whole lot simpler compared to Impact Detection. What it does is whenever your camera sensors detect movement, it will automatically start recording. This is helpful in case of theft where there is not much impact to activate the impact detection feature.
There is just one thing you need to keep in mind in order to enjoy this dashcam's parking mode feature. Make sure that you have an external power source prepared for your dashcams. After all, if your car is turned off, your dashcam will not be able to power up at all.
The Rexing V1P Max Dual Channel Dashcam also has loop recording capabilities. This is a great feature for those who cannot afford to purchase an SD card with a bigger storage capacity. But before we go any further, for those who have no idea, what exactly is loop recording?
Loop recording is a dashcam feature that automatically removes the oldest file saved on your SD card. This happens when it detects that you are lacking in storage but still need to keep recording your day. Thanks to this feature, you do not have to manually delete the old videos on the SD card. The dashcam will be doing it for you instead.
GPS Logger and Mobile Support
Another thing that makes the Rexing V1P Max a good choice is its GPS logger and app support. With these features, you will be able to monitor your travels with utmost convenience.
With the GPS logger, you can playback your previously recorded video and use the GPS logger software. By doing so, you are able to see real-time information regarding your travel speed, current location, and many more. This will allow you to pinpoint your previous location if needed.
Aside from the GPS logger, the Rexing V1P Max also comes with mobile support. This means that you can monitor your dashcams using your mobile phones. With this, you can watch all the recordings on your dashcam with just your phone. You can even download and transfer the videos if you want to. Thanks to this, sharing footage from person to person has never been easier.
Now that this dashcam's specifications are laid down, it is time to move on to the next agenda at hand. So, what exactly comes with the Rexing V1P Max Dual Dashcam outside the box? Well, allow us to answer that question for you. Hopefully, with this, you will be able to gauge better whether this dashcam is the one for you.
Here are the different things that you get when you purchase the Rexing V1P Max Dual Dashcam:
• Rexing V1P Max Dual Dash Camera
• Rear Camera + 20ft Cable
• Power Cable
• Adhesive Mount
• USB Cable
• User Manual
There are also a lot of upgrade kits you can purchase for your Rexing V1P Max Dual Dashcam. This is if you are interested in upgrading the basic functions of your dashcam even more.
Frequently Asked Questions
1. Is the 4K recording capability available for both channels?
– No. The 4K recording capability of the Rexing V1P Max Dual Dashcam is only true for the front camera. This means that the rear camera won't have the ability to record in 4K resolution video quality.
2. What is the best recording resolution of the rear camera?
– The rear camera is able to record in 1080P resolution.
3. Are both the front and rear cameras of the dashcam using the microSD card installed?
– Yes, both cameras save their recorded files on the same microSD card.
4. Will all the recordings stored in the SD card be saved using the same file format?
– Yes, all the saved recordings on the SD card will be using the same file format.
5. What kind of MicroSD card should you use for the Rexing V1P Max Dual Dashcam?
– For the best performance, we recommend that you use a UHS-1/Class 10 or higher microSD card for the dashcam.
6. Will there be any possible problems when downloading the supported app from the play store or app store?
– No there aren't any issues if you wish to download the application from the play store.
7. Can you manually lock looped videos?
– Yes you can. You may do this by simply setting in the dashcam's settings. With this, you will not have to worry about a certain video having deleted suddenly.
8. What are the dimensions of this product?
– The dashcam's dimensions are 4.5 inches by 2.5 inches by 2 inches.
9. Where can you purchase the Rexing V1P Max Dual Channel Dashcam?
– You can get the product by either purchasing it from the brand's website or by ordering them online.
10. Is the product available for purchase worldwide?
– Yes you may purchase the product wherever you are worldwide.
Comparing the Rexing V1P Max to the Thinkware FA200  
Another dashcam that would certainly be worth your money is the Thinkware FA200 Dashcam. This is another great option for your dashcam needs. And since it was released recently as well, it is also a popular choice when it comes to affordable dashcams.
But which among the two should you choose? Should you go for the older Thinkware FA200 Dashcam or should you go for the Rexing V1P Max? Well, let's find out together below.
When it comes to price, the Thinkware FA200 certainly has the lead. This is because although their prices are not so spread out apart, the Thinkware FA200 is certainly a lot cheaper. And for some who are a bit tight on the budget, the Thinkware FA200 will certainly come out on top.
However, in terms of features, the Rexing V1P Max Dashcam would certainly bring home the bacon. This is because the Rexing V1P Max can record in 4K while the Thinkware can only do so in 1080P. In terms of video quality and clarity, the previous is certainly the better option. And on top of that, the Rexing V1P Max also has better video recording angles than the Thinkware model.
Aside from that, there really is not that much of a difference in terms of both dashcam's other features. In fact, there are a lot of similarities between them.
The app supports built-in wifi and GPS, parking mode, and many more. Both are able to monitor the dashcams through a supported app, both have built-in wifi support, and many more. So whichever you may end up choosing, you will certainly not be disappointed.
If you are looking for a good dashcam for your use, then you should consider the Rexing V1P Max. With the different features that it offers, there really is not a lot more you can ask for.
In conclusion the Rexing V1P Max is very user-friendly and easy to use. No matter your age, you will surely get the knack of it in no time. This being said, there is nothing you should worry about when choosing this dashcam.
Always keep yourself protected from all sorts of roadside accidents. Make sure that you have a trusty dashcam by your side at all times. By doing so, you are assured that you will never be wrongly held liable for something that isn't your fault. With the Rexing V1P Max, you will surely get all this and more.